Protection with stlye – Victory Motorcycle Jackets For Women available from Tousley Motorsports.
Rev up extra style. This smartly styled casual jacket is ideal for riding or for everyday wear. It has a stylish collar, flattering cut, contrasting topstitching and modest Victory branding.
Shell: Black polyester
Pockets: 3 exterior and 1 interior pocket
Additional Features: Comfort-enhancing stretch inserts at the elbows; pockets for protective armor (armor not included); double-topstitch detailing; Victory branding on the front and Victory branded patches on the sleeves
Sizes: S-3XL
Shell: Polyester mesh nylon and Cordura® panels
Pockets: 2 exterior and 1 interior pocket
Adjustability: Adjustable cuffs and sleeve snap straps
Liner: Windproof and showerproof removable liner
Additional Features: CE-approved shoulder and elbow protectors; 3M® reflective panels & piping; Victory branding front, back and on the left sleeve
Sizes: L
A comfortable, stylish leather jacket for plus sizes.
Shell: Soft, comfortable premium-grade leather construction
Venting: Vented to provide cooling airflow
Pockets: Interior and exterior pockets
Adjustability: Accordion stretch panels on sides for enhanced comfort — especially while seated, 2-way full-length front zipper
Liner: Zip-in/out liner for multi-season comfort
Additional Features: Embroidered graphics: Victory logo across back, Victory tank badge logo on left chest
Extended Sizing: Available in Women's sizes S-XL, 2XL and 1W-3W — "W" sizes offer increased comfort without significantly extending length of sleeves or torso
Shell: Abrasion-resistant nylon
Ventilation: Hidden air vents
Pockets: 4 exterior and 2 interior pockets
Adjustability: Stretch waist inserts; adjustable cuff closures; adjustable sleeve snap straps
Liner: Removable softshell liner
Additional Features: CE-approved shoulder and elbow protectors; pocket for back armor (back armor not included); zipper in back to connect to Tour Pants (sold separately); removable storm collar; storm guard around waist; reflective panels and piping for visibility; Victory branding on the sleeves and back
Sizes: S-3XL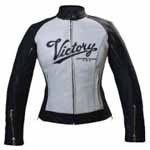 Women's Vintage Jacket
Retro look, modern fit. We cut this leather to comfortably fit a woman, and designed it for multi-season riding with a zip-in/out liner.
Shell: Buffalo and heavy nappa leather
Ventilation: Hidden air vents
Pockets: 2 exterior and 1 interior pocket
Adjustability: Zippered side expansion panels
Liner: Removable vest liner
Additional Features: CE-approved shoulder and elbow protectors; action back for comfort while riding; Victory script logo across the front, Victory "V" logo on the back
Sizes: S-3XL